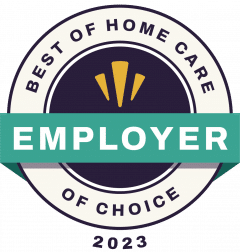 What does it mean to be a 2023 Best of Home Care® Employer of Choice?
Quality care starts with happy caregivers. Choosing an "Employer of Choice" means choosing a provider with excellent caregiver satisfaction ratings.
The Best of Home Care – Employer of Choice award is based on caregiver satisfaction ratings collected via telephone interviews by Home Care Pulse, an independent satisfaction research firm. Providers who have earned this award are best-in-class for caregiver satisfaction. When you choose an "Employer of Choice," you can have confidence that your caregivers will be happy to serve you. Best of Home Care award-winning providers appreciate their caregivers' feedback and are dedicated to providing the highest level of quality, professionalism and expertise in home care.


We invite you to be a part of this great company. Either as a client, community partner, or employee you will experience warm and compassionate people who have a deep passion to "empower people to experience the full joy of living.